A size 2T toddler sweater.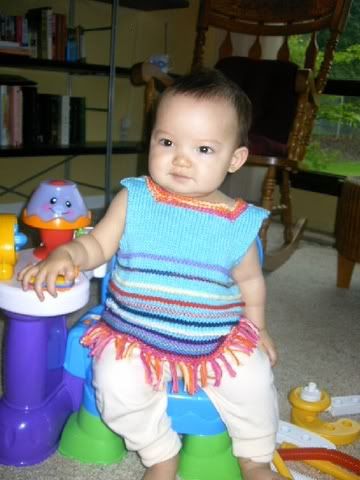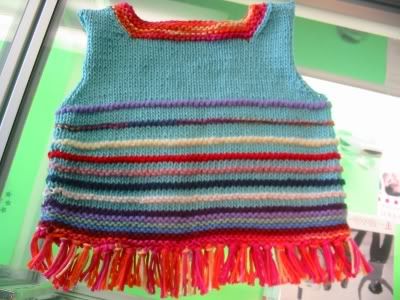 Jellyroll Sweater

A very easy sleeveless sweater, done in the round. Doesn't use a lot of yarn, you can pretty much make this out of any worsted scraps you have available (and don't we know, if you are a normal knitter you probably have enough in your stash to circle the earth several times over.) Takes around 3-4 hours of knitting.

This was inspired by my one year old, Scarlett, who has a very round little tummy. She is still being breastfed and is very healthy but quite chunky nevertheless. She just started walking, and the little fringe is cute when she jumps around.

Materials:

Yarn: 100 grams of Plymouth Fantasy Naturale, 100% cotton, and various worsted yarn scraps of similar gauge. I used a multicolor yarn for the bottom and collar and I think this creates a good balance colorwise.

Needles: Size 7 circular and size 8, or size needed for gauge, ando one crochet hook for fringe.

Size: 2T, around 24 inches, 18-24 months.

Gauge: 18 st by 24 rows in stockinette stitch

With smaller needles, cast on 92 stitches. Place marker for start of round, join in the round, being careful not to twist. Using a multicolored yarn, start with the following:

Row 1: Purl
Row 2: Knit
Row 3: Purl

Change to a different yarn.

Row 4: Knit
Row 5: Purl

Repeat the last two rows four more times, each time using a different contrasting yarn. By knitting one round and purling the next, you are working in garter stitch since this is worked in the round.

Change to main color, and knit two rounds (stockinette stitch).

Change to a contrasting yarn, knit one round and purl one round. Repeat last four rows three more times.

Change to main color, knit three rounds.

Change to a contrasting yarn, kit one round and purl one round.

Change to main color, knit four rounds.

Change to a contrasting yarn, knit one round and purl one round.

Repeat last two rows 1 more time. Body should now be around 5 inches long.

Separate back and front evenly, 46 stitches on each holder. Work the front 46 stitches as follows:

K2, k2tog, knit in stockinette (knit one row, purl one row since you are now working flat) until the last four stitches, ssk, k2.
Next row: Purl

Repeat last two rows 3 times more, 40 stitches. Cont until armholes measure 3.25 inches.

Neck shaping: K10, place next 20 stitches (neckline) on a holder and the remaining 10 on a different holder. Turn, p10. Decrease 1 stitch at neck edge every alternate (knit) row 3 times, 7 stitches remaing. Bind off. Place last 10 stitches back on needle and work the same way.

Back: Work the same as for front.

Neckband: With right side facing and using contrast multicolored yarn from cast on row, pick up 20 stitches from center holder, 15 stitches along neck edge, 20 stitches from back holder, and 15 stitches along other edge. Join in round, pm for start of round.

Knit 1 round.
Purl 1 round.
Decrease row: K8, k2tog, repeat until end of round.
Next row: Purl
Decrease row: Knit, decrease 6 stitches evenly using k2tog.
Next row: Purl
Bind off.

Weave in ends, fringe the bottom with multicolored contrast yarn, with a crochet hook and double strands.

Notes: To make a smaller size, you could cast on less stitches... 86 or 88. Take away one decrease row at the shoulder shaping and make the neckline slightly smaller.

If you find corrections please email me at viamobile02 at yahoo.com. Thanks!